EDITED on 02/11/15 – I was at it again this year and posted thirty NEW days of writing tips. Go check out this year's tips on my Facebook page.
Here are my 2013 tips: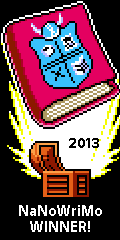 I love National Novel Writing Month or NaNoWriMo. It's one of the few times that the solitary act of writing feels social. It's the water cooler of the writing world and I love to stand around talking about my work. This year, my second year to "win", I decided to post daily writing advice on my Facebook page based on what I was thinking about as I wrote that day. I am really going to miss my little daily advice giving, and the forced self awareness necessary to do it! I thought I'd post my advice here.
Let me know what you're best writing advice is. We can all always learn from each other!